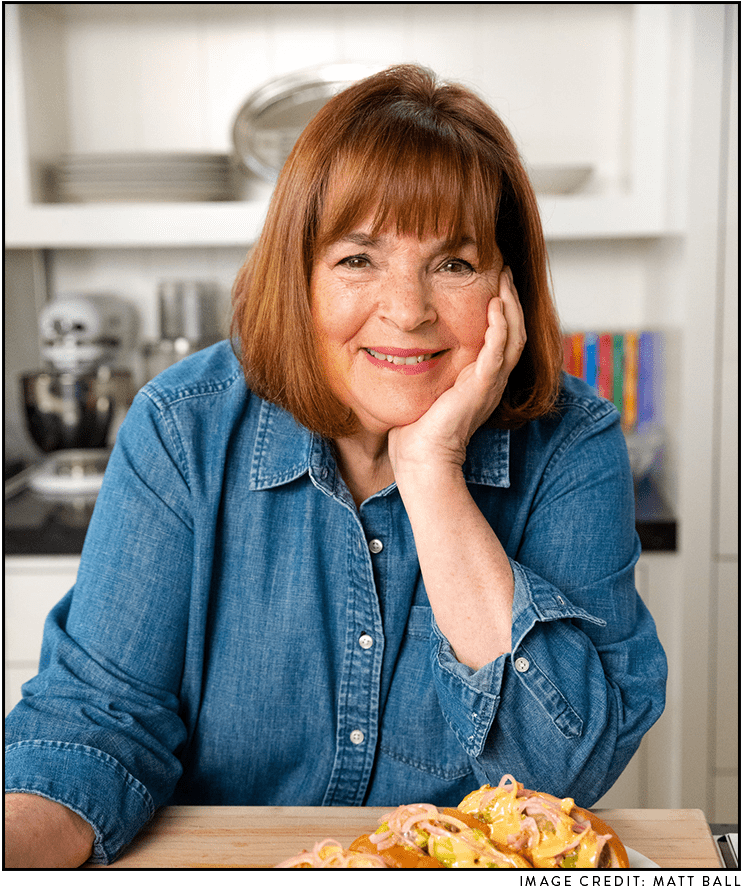 Friday, Jan. 12: 12 p.m. Lecture
Ina Garten's first book, The Barefoot Contessa Cookbook, was published in 1999 and was one of the best selling cookbooks of the year. She has since gone on to write thirteen phenomenally successful cookbooks, including Barefoot Contessa Parties!, Barefoot Contessa Family Style, Barefoot in Paris, Barefoot Contessa at Home, Barefoot Contessa Back to Basics, Barefoot Contessa, How Easy is That?, Barefoot Contessa Foolproof, Make It Ahead, Cooking for Jeffrey (named the bestselling print cookbook of 2016 by Publishers Weekly), Cook Like a Pro, and Modern Comfort Food. Her latest cookbook is Go-To Dinners (Clarkson Potter, Oct. 25, 2022). She is also working on a memoir, to be released October 2024. 
In 2002 Food Network approached Ina Garten to do a cooking show based on her cookbooks and her love of entertaining. She was reluctant but decided to challenge herself to do 13 shows. Today her Emmy-winning cooking show, Barefoot Contessa, is one of the highest rated shows on Food Network. Ina Garten received the 2014 James Beard Foundation Broadcast and New Media Award in the category of Outstanding Personality/Host for her show Barefoot Contessa: Back to Basics (Food Network). The newest Barefoot Contessa show, Barefoot Contessa: Modern Comfort Food received the 2022 Daytime Emmy award for Outstanding Culinary Series. In 2021 she starred in Cocktails and Tall Tales With Ina Garten and Melissa McCarthy on discovery+. Premiering in March 2022, her new series, Be My Guest, is multi-platform and structured with three distinct versions: an hour-long extended cut on discovery+, a food-centric half-hour on Food Network and a companion podcast, premiering across platforms. 
Garten is currently a monthly columnist for Food Network Magazine and in prior years has also been a monthly columnist at House Beautiful, Martha Stewart Living Magazine, and O, the Oprah magazine. In 2015 Ina Garten was named one of Time Magazine's 100 Most Influential People. 
Onstage, Ina Garten delivers a charming insider's view of her world and the pleasures of good food and friends. She lives in East Hampton, New York with her husband, Jeffrey.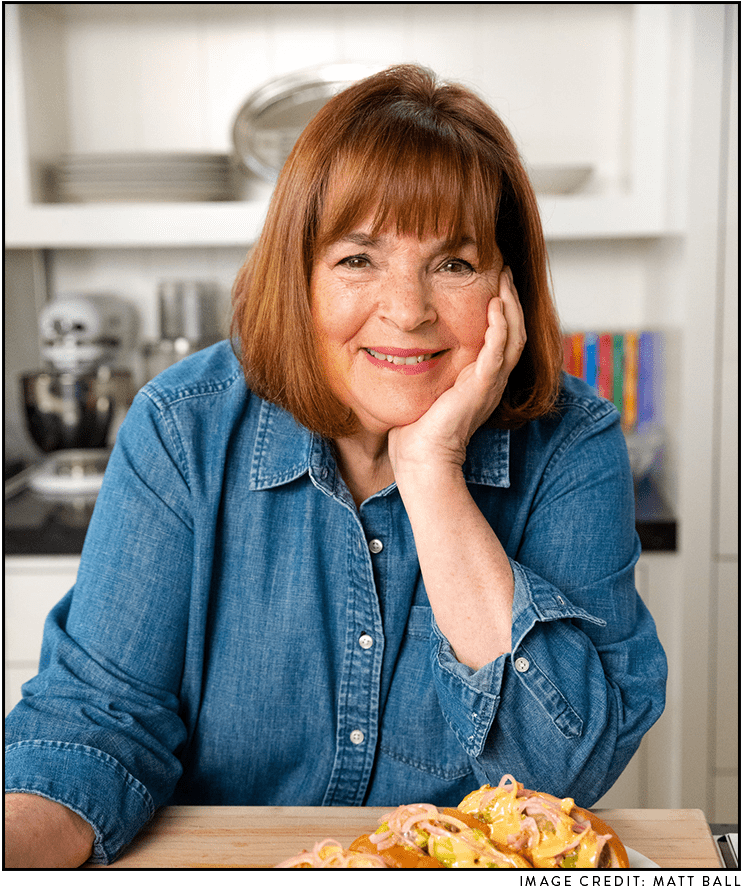 Friday, Jan. 12: 2 p.m. Lecture
Ajiri Aki is an American-Nigerian living in Paris and the founder of Madame de la Maison, an entertaining and lifestyle brand. She was born in Nigeria, grew up in Austin, Texas, and received her BA from Texas Christian University. After university, lusting for big city life, she ran as fast as she could to New York City to begin a career in fashion. She started as a stylist's assistant working for publications including W, Rolling Stone, Nylon, and Interview Magazine. She quickly moved on to become Associate Men's Fashion Editor at DNR (WWD), Senior Accessories & Celebrity Sittings Editor at Suede Magazine where she styled many celebrities including Boy George, Pharrell Williams, Kerry Washington, and Jimmy Fallon.
Ajiri received a Master of Arts degree in Decorative Arts, Design History, and Material Culture from Bard College in New York which deepened her obsession with objects. During this time, she interned and volunteered at the Metropolitan Museum of Art's Costume Institute working on major exhibitions about Poiret, Chanel, and Anglomania. Ajiri also served as an associate curator at The Museum of the City of New York for an exhibition about Black style from the 1920s to the present. After a brief stint in Paris researching and writing about Jean Patou, Coco Chanel's rival in the 1920s and 30s, Ajiri returned to New York to launch a fashion video production company where she worked with brands such as Neiman Marcus, Hermès, Diane von Furstenberg, Rodarte, Marchesa, and Jason Wu.
Her return to New York was short-lived because less than a year later, she met her future husband, a Swiss man living in Paris, when they were both working on the same film production project during New York Fashion Week. After marrying in Austin, she joined him in Paris. In 2015, Ajiri co-authored her first book, the New York Times bestselling Where's Karl?: A Fashion-Forward Parody (Clarkson Potter), which received rave reviews, and went on a book tour sponsored by Karl Lagerfeld.
In 2018 Ajiri launched Madame de la Maison, a Paris-based entertaining lifestyle brand specializing in French antiques and tabletop linens with an online shop and rental services. The company has been featured in Vogue, Domino, Remodelista, Grazia, and Metropolitan Magazine (the Euro-Star magazine), among many other outlets. Ajiri has also been thrilled to collaborate with brands including Tory Burch, Christofle, and Joie. Ajiri was included in The New Parisienne (Abrams, 2020), a book highlighting 50 women who are changing the definition of what it means to be Parisienne. In March of 2021, she was chosen as one of seven women to be featured in a short film for LinkedIn for International Women's Day 2021.
Saturday, Jan. 13: 11 a.m. Lecture
Gabriela is known for her romantic, lush floral design style. She attributes this effortless style to nature and growing her own flowers. While in the garden, she observes the contour of the plants and trees – taking note of their effortless movement and soft, graceful forms. She translates these garden observations into her floral design work.  
By being fully present in her work, both in the garden and in the studio, Gabriela has developed something she calls 'flowers from the heart', where the flowers continuously guide her. With the flowers in mind, she creates rivers of color and textures, layering in movement with delicate florals to add softness and grace to all her arrangements. Furthermore, Gabriela accredits her garden for redefining herself. She created a garden; in turn, the garden helped her find her path and place in the world. Gabriela feels that flowers are not just beautiful to arrange but working with them also teaches you how to be patient, kind, resilient, and graceful – offering immeasurable life lessons.
Sign up for A&G Newsletters.
Get early access, sneak peeks, and be the first to know about all things A&G, including upcoming events, as well as sponsorship, advertising, and vendor opportunities.