Welcome to the 34th Annual
Antiques & Garden Show
of Nashville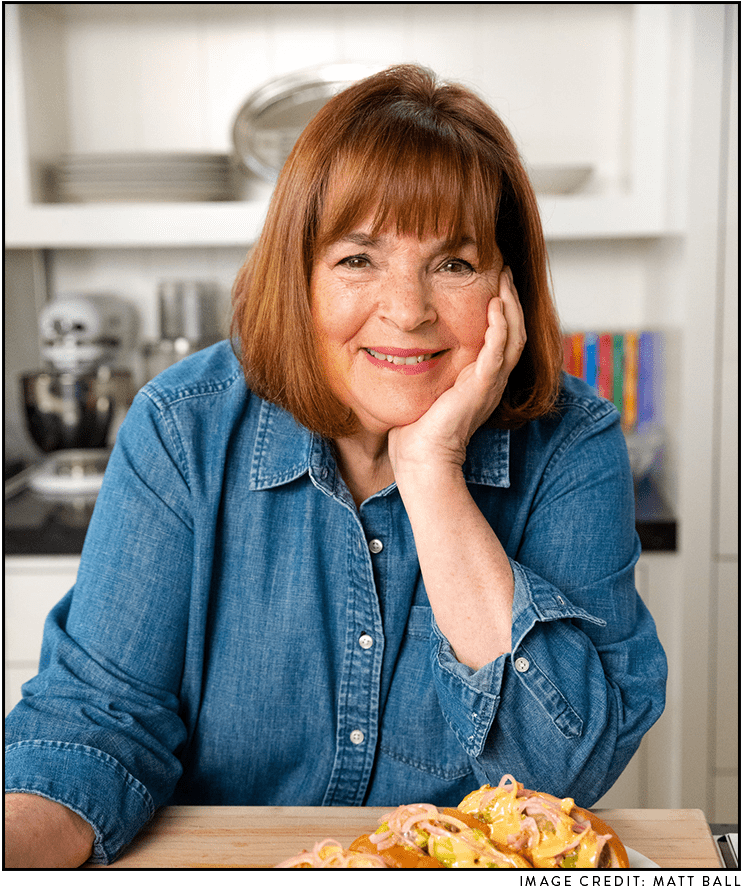 Ina Garten, Cookbook Author & Television Host
Ina Garten's first book, The Barefoot Contessa Cookbook, was published in 1999 and was one of the best selling cookbooks of the year. She has since gone on to write thirteen phenomenally successful cookbooks, including Barefoot Contessa Parties!, Barefoot Contessa Family Style, Barefoot in Paris, Barefoot Contessa at Home, Barefoot Contessa Back to Basics, Barefoot Contessa, How Easy is That?, Barefoot Contessa Foolproof, Make It Ahead, Cooking for Jeffrey (named the bestselling print cookbook of 2016 by Publishers Weekly), Cook Like a Pro, and Modern Comfort Food. Her latest cookbook is Go-To Dinners (Clarkson Potter, Oct. 25, 2022). She is also working on a memoir, to be released October 2024. 
In 2002 Food Network approached Ina Garten to do a cooking show based on her cookbooks and her love of entertaining. She was reluctant but decided to challenge herself to do 13 shows. Today her Emmy-winning cooking show, Barefoot Contessa, is one of the highest rated shows on Food Network. Ina Garten received the 2014 James Beard Foundation Broadcast and New Media Award in the category of Outstanding Personality/Host for her show Barefoot Contessa: Back to Basics (Food Network). The newest Barefoot Contessa show, Barefoot Contessa: Modern Comfort Food received the 2022 Daytime Emmy award for Outstanding Culinary Series. In 2021 she starred in Cocktails and Tall Tales With Ina Garten and Melissa McCarthy on discovery+. Premiering in March 2022, her new series, Be My Guest, is multi-platform and structured with three distinct versions: an hour-long extended cut on discovery+, a food-centric half-hour on Food Network and a companion podcast, premiering across platforms. 
Garten is currently a monthly columnist for Food Network Magazine and in prior years has also been a monthly columnist at House Beautiful, Martha Stewart Living Magazine, and O, the Oprah magazine. In 2015 Ina Garten was named one of Time Magazine's 100 Most Influential People. 
Onstage, Ina Garten delivers a charming insider's view of her world and the pleasures of good food and friends. She lives in East Hampton, New York with her husband, Jeffrey. 
Welcome to Beautiful. Welcome Home.
Now entering its 34th year, Antiques & Garden Show of Nashville is the longest-running, largest, and most respected event of its kind in the country. This annual celebration of antiques, art, and horticulture has become a staple of Nashville culture. Not only does the Show boast more than 150 exhibitors, magnificent gardens, cocktail parties, and phenomenal speakers, it also serves as a fundraiser for Cheekwood and ECON Charities – raising nearly $9 million since its inception. 
The Show was the brainchild of Nashville-born, legendary interior designer Albert Hadley. Today Antiques & Garden Show draws more than 16,000 attendees from all over the world and has become a renowned Southern tradition. You won't want to miss the 2024 event – Welcome to Beautiful – featuring the Barefoot Contessa, Ina Garten, and stunning exhibitors.
Tickets go on sale in September.
Check back for additional updates about the 2024 Show.
Sign up for A&G Newsletters.
Get early access, sneak peeks, and be the first to know about all things A&G, including upcoming events, as well as sponsorship, advertising, and vendor opportunities.
Your Support Makes All the Difference.
Antiques & Garden Show of Nashville sponsors, supporters, and show attendees have helped us raise over $10 million benefiting Cheekwood and ECON Charities, including Light A Spark and The Family Center.